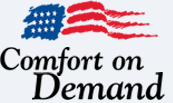 It's our motto and we believe in it.
Uncomfortable in your own home?
Call Bud's. We'll be there... fast!
That's Comfort on Demand.
We invite you to explore our site and learn more about our company and what makes us the right choice for all your home comfort needs.
What's New?
Hampton Roads Home & Garden Expo
Winter 2008
We are proud to once again be the Exclusive Presenting Sponsor of the Hampton Roads Home & Garden Expo, the Peninsula's largest home show. Stop by our booth and learn about the latest and greatest in home comfort and indoor air quality systems. More info to follow as the event draws near.
Polar Bear Truck
E

veryone loves our trucks.

This is the newest addition to our fleet. We call it the "Polar Express." Look for it in your neighborhood.
Interested in joining our team?